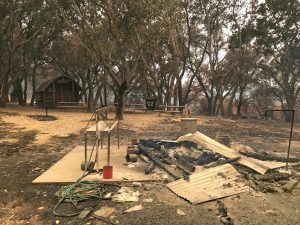 We received very sad news today that Rancho Alegre Boy Scout Camp sustained major damage in the Whittier Fire.  Most of the main structures at camp have been burned.  Carlos Cortez, Los Padres Council Executive Director, is reporting that Rancho Alegre lost 90 percent of the buildings and he has been authorized to visit the camp later today to assess the damage.
The above photo shows Comanche, Troop 1's adopted campsite.  It seems that Millers Outpost, our cabin, is still standing and but it appears we lost our bathroom and we are not yet not sure about any other damage to our campsite.  Many years ago Troop 1 adopted Comanche Campsite at Rancho Alegre and built a cabin on the site as well as other improvements throughout the campsite.  Additionally Troop 1 invested money in other structures like the dining hall and the dormitories that were used for the outdoor school.
Please do not try to visit the camp.  The Los Padres Council Website states that scouting personnel are not allowed on the camp to asses the damage at this time.
Links for Whittier Fire updates and Rancho Alegre photos:
Photos of Rancho Alegre Fire Damage — http://www.thenaturephotographer.com/outdoor-school-r-i-p/Los Padres Council Website with Whittier Fire Updates — http://www.lpcbsa.org/Santa Barbara Noozhawk with Article on Rancho Alegre — http://www.noozhawk.com