Troop 1 will be attending a second summer camp this summer from July 26th thru August 1st. We will be going to Camp Chawanakee at Shaver Lake hosted by the Sequoia Council.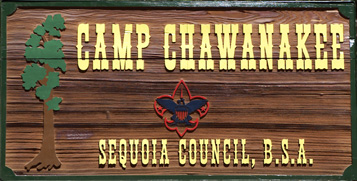 This camp focuses on merit badges and has many great opportunities including boating and aquatic activities right on Shaver Lake. It will be a great experience for everyone. Camp Chawanakee has over 30 merit badges offered during camp.
Here is a link to all the activities offered at camp: http://www.chawanakee.com/MeritBadges.cfm
Scouts will spend a full week at camp going to merit badge classes each day and then enjoying free time in the afternoon where they can participate in waterfront activities including swimming and boating. Hiking, A Great COPE type ropes course is available as well as shooting sports. Accommodations for camp are cabin type tents with a wooden platform. These tents are supplied by Chawanakee.
If you are interested in going … $100 deposits are due now. Please make checks payable to "Boy Scout Troop 1".