This years Rocket Launch and Camping Trip to Dairyaire 2015 is coming up Saturday May 16 and Sunday May 17. We will be leaving from the Church parking lot the Saturday morning and returning  late Sunday afternoon.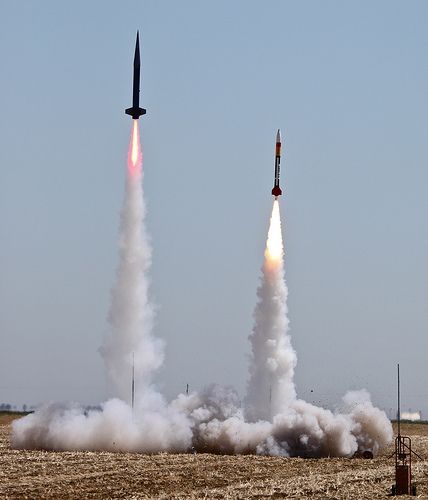 Travel Agenda
Leaving the Church at 6:00 AM Saturday.   Please be on time.  We will stop for for Breakfast/Lunch about 9:00 AM.  We will be stopping where food is available for purchase or you may bring own food.  We will arrive at the camp ground launch site around 11:00 AM.  We will set up camp and launch rockets. Those having lighted rockets can continue with night launching.  Depending on how much rocketry the Scouts want to do on Sunday morning we will leave around 12:00 PM and should be back at the Church about 5:00 PM
COST and CAMPING
Cost for attendees (Scouts and adults) is $40.00 and includes meals while at Dairyaire and transportation to and from the outing.  Scouts should bring their own money for meals on the road to and from the launch and for additional rocket motors if needed. The Troop will be car/tent camping at the rocket launch site.  The rocket launching activity site is somewhat remote and is located far away from trees and building.   Bathroom facilities will be available.  Be sure to bring sunscreen and hats.
Dairyaire and Rocketry
Dairyaire is held in Fresno and more details about the launch and the Tripoli Central California rocket meets can be found at their website.
If you are going and want to launch a rocket make sure you have yours built and ready by Saturday May 16.  Make sure you also purchase enough rocket motors if you want to launch more than once. There will be vendors onsite selling rocket motors but not all sizes may be available.  It is best if you can purchase the motors and bring them with you.
There are many on-line suppliers of model rocket kits.  In Ventura/Oxnard/Camarillo you can purchase kits from Fry's Electronics and Hobby People.
The following are other on-line sources.
eRockets A good site showing many of the different kinds of rockets you can purchase.